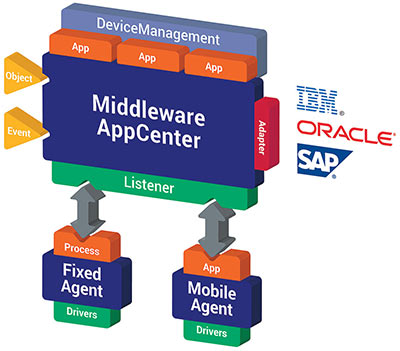 At the heart of a complete RFID system, eAgile's data collection software uses the latest RFID technology to allow RFID reads to be combined with existing ERP and back-end systems to enhance functionality. The middleware will provide object and event data along with an intuitive device management interface and a robust RTLS Infrastructure application.
---
RTLS Infrastructure

Creates logic between RFID infrastructure and business rules
Establish track-and-trace functionality
Build custom maps and zones to visualize object location

Device Management

Create and deploy processes bases on templates
Update device drivers and service bundles
Manage and configure agents
Push notifications of system alerts

Fixed and Mobile Agents

Real-time data processing and filtering
Easy connectivity to routed networks
Run multiple mobile scenarios on or offline
Load, run and buffer mobile apps from local server
Need an RFID solution? Let eAgile make RFID easy for you.
Contact us using the form below for more information